Macau: Taking the personal computer competition to a new level, global giant HP Inc on Thursday unveiled eight new products with the world's thinnest HP Spectre Notebook — weighing 1.1 kg and as thin as 10.4 mm — and Elite x3 – a 5.96-inch touchscreen device that will allow users to connect seamlessly to a separate screen, mouse and keyboard.
Both Spectre laptop and Elite x3 devices will be available in India soon. While $1,249 (India prices yet to be announced) Spectre notebook will be available in the market from mid-June, Elite x3 phablet will hit the Indian market later this year.
"HP Spectre is the thinnest notebook in the world and unlike the majority of other super thin PCs on the market, this laptop doesn't compromise power or features," Anneliese Olson, vice president of personal systems business, HP Asia Pacific and Japan, told reporters here.
Priced at Rs.130,000 and now available in India, another key product HP EliteBook Folio is the thinnest and lightest business-class notebook with 12.4 mm thickness and weighs under one kg.
Also joining the line-up are a new generation of 15.6-inch diagonal HP ENVY laptops and EliteBook G3 series – HP EliteBook 1040 G3 and HP EliteBook 800 G3 series.
Another key product – Hybrid Elite x2 1012 – was launched at a starting price of Rs.84,599. It is now available in India.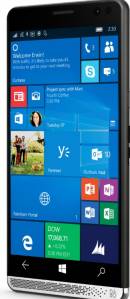 Packed with sixth generation Intel Core i5 and i7 processors, the eye-catching HP Spectre laptop has superb entertainment experience with full HD 13.3-inch diagonal edge-to-edge display and a lightning fast PCIe solid-state drive (SSD) with storage up to 512GB with up to 8GB of memory.
It has an innovative hybrid battery split into two thinner pieces that delivers the same charge as a single battery for up to nine and half hours of battery life.
A beautiful Full HD edge-to-edge display, Intel Core i processors coupled with Bang and Olufsen stereo sound, "HP engineers have set a new standard with the all new Spectre", Olson told reporters here.
The notebook has carbon fibre bottom that is both durable and lightweight, keeping the total weight of the notebook at just 1.11 kg.
Full HD IPS edge-to-edge display featuring Corning Gorilla delivers a superb viewing experience for editing photos, making presentations or watching movies.
It has three full function USB Type-CTM connectors, including two of which support ThunderboltTM, to provide a fast, versatile I/O connection.
HP ENVY laptops feature choice of Intel Core processors up to i7. It has 16GB of memory with dual storage options of up to 1 TB HDD and 256 GB PCIe SSD. The device has Windows Hello support on optional HD IR camera.
HP ENVY laptop will be available in Asia Pacific and Japan from May, starting at $779.
The much-awaited Elite x3 device supports Continuum – a feature that allows the device to be attached seamlessly to a separate screen, mouse and keyboard.
To be available in Asia Pacific and Japan in September and then in India, HP Elite x3 bridges phablet, laptop and desktop use cases from a single computing device while enabling users to run key productivity apps across seamlessly.
"At HP, we are constantly pushing the envelope in design, productivity, security and entertainment to build innovative products for 'One Life'," said Anneliese Olson, vice president of personal systems business, HP Asia Pacific and Japan.
By utilising Continuum in Windows 10, the Elite x3 enables frictionless multi-screen transitions between a phone and a desktop PC. The device sports 8MP front camera and 16MP rear camera.
For users' security, the device has both a fingerprint reader and an iris recognition camera, offering biometric security as part of Window's biometric Hello framework.
The Elite x3 offers a unique computing experience by leveraging the power of the Snapdragon 820 processor, the optional HP Desk Dock and the optional Lap Dock, allowing the device to let people work on their own terms no matter where the locale.
Users can also enjoy easier, faster charging with Qualcomm Quick Charge 3.0 technology.
The Elite x3 also allows users to work with the apps they love and rely on.AHP Workspace – an app catalog designed by HP to easily enable access to virtualised apps – on Elite x3 creates a virtual PC, giving users access to apps via a virtualised solution.
The price of Elite x3 device is yet to be announced. All new products barring Spectre Notebook, Envy and Elite x3 device can be ordered in India from Thursday.
Source: Gadget News